services

Activation
Art Direction
Brand Identity
Brand Guidelines
Digital Product
Packaging
role
Art Direction and Design
Completed at
Wondersauce︎
credits
Brand Positioning: Clara Freeman
Copywriting: Jordan Somers
Creative Media Strategy: Chris Gilbert
Photography:
Devin Altebello,
︎
Henrik Hansen,︎
Noah Stone︎
Production: Frankie Attalah, Shannon Mulcahy
about

We collaborated with founder and skincare expert JP Mastey in creation of Corpus Naturals, a new D2C brand that creates completely naturally derived, vegan deodorants. Corpus is made for people who don't want to sacrifice quality for the sake of going natural.

Corpus creates complex natural fragrances derived from essential oils and isolates. The refined scent notes in the deodorants combine with your body's natural chemistry to produce a uniquely personal fragrance.

We designed a custom scent scale for one to easily read the ingredient makeup of a Corpus scent. Ranging from 1 to 4, 1 indicates a subtle note while 4 indicates a stronger potency. Natural ingredients come together at varying levels of intensity, and this scale is used as a consistent visual tool.


There are three core colors to the Corpus visual identity. We never use the common modern hues of black, grey, or white. Instead, we use a refreshing spectrum of green; dark green, neutral green, and light green. The heart of our palette is green, thoughtfully represented throughout the packaging design.
We named and helped launch a collection of 5 Corpus scents: Cedar Flora, Nº Green, Santalum, The Botanist, and Third Rose. Supplementing each scent are dreamlike, elusive vignettes created by director
Henrik Hansen.︎
The bottle and carton designs contain two language translations initially created for FR and EN speaking countries. A potential distributor can simply rotate the packaging to best fit their audience's needs.

It is a brand promise to maintainin a thoughtfully considered experience from the ingredients used in the product, to the design choices made.

This is relentlessly followed through in the e-commerce experience. We focus on very few, well-considered details. A user has the ability to pan left or right [horizontal] to preview the available scent families. Simply scrolling down [vertical] provides the ability to explore each scent family in depth.

The Mini Trios are are given the same level of importance as the Regular deodorants in the product carousel.
We provide a delightful, discoverable secondary form of scent family navigation.
For launch, we created a set of evergreen photography that Corpus could use and re-use for social media. Corpus product is presented in everyday 'getting-ready' scenes.
services
Art Direction
Brand Guidelines
Digital Product
role
Art Direction and Design
Completed at
Wondersauce︎
credits
Art Consultant: Peter Miles
Photography: All Rights Reserved by Proenza Schouler
Product Management:
Lily Thalheimer︎
about
Proenza Schouler is an award-winning NYC based womenswear brand by Jack McCollough and Lazaro Hernandez. We worked closely with the team at Proenza Schouler to re-design their e-commerce experience and digital platform.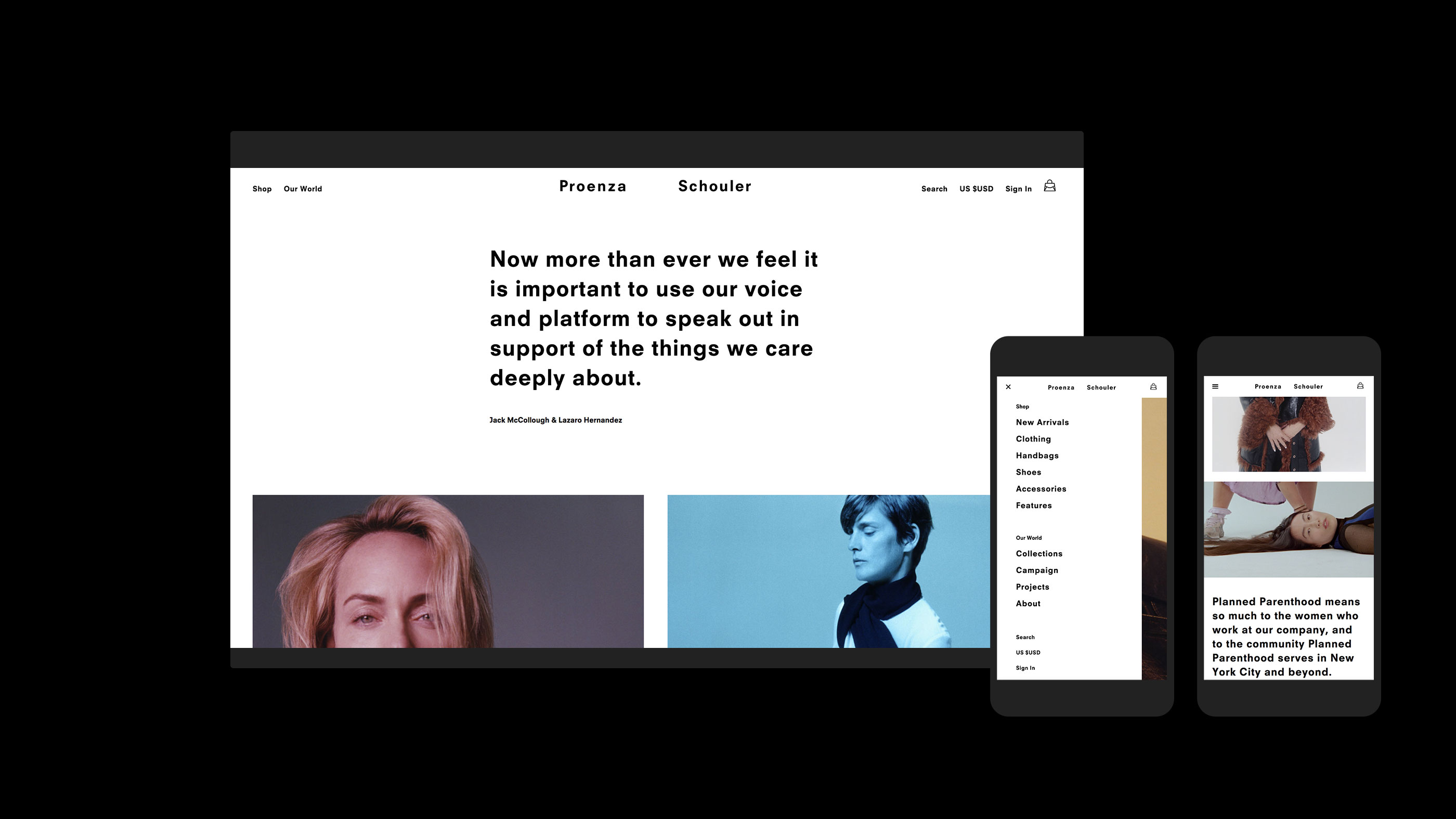 Tabula Rasa Magazine
Events and Collaborations
about

Tabula Rasa Magazine, established in 2013, is a non-profit organization that gives artists a platform to collaborate and create without commercial restraints, publishing thematic-based books annually. In celebration of each theme, and collaborators involved, we exhibit gallery openings and events throughout the year.
'Volume IV: Performance'
Usagi Gallery, Brooklyn and
Top of the Standard, New York 2019
'Performance' (Prelude) with Badland.TV
Färgfabriken, Stockholm 2018

'Volume III: Numb'
Picture Farm Gallery, Brooklyn 2017
'Volume II: Fixation'
Red Hook Labs, Brooklyn 2015
'A/PART'
Vandervoort Studio and gasoline.xxx, Brooklyn 2014
It's strange to learn you've done something you have no recollection of doing. You didn't blackout from a drinking binge, and you weren't sleepwalking. You were simply living your life. Or, rather, performing it. Every voluntary move we make—getting out of bed in the morning, going to our jobs, dating, grabbing coffee, going to the restroom—is a performance. It doesn't always have to be a sold-out audience, but it's the role of a lifetime.

To some degree, we're all aware that society looms large over our actions. As the visionaries in this issue show, we modify ourselves based on those imposed standards. In the moment we might tell ourselves these performative adjustments aren't important, but ultimately they shape us as individuals. Once we become aware that every part of life is a performance, we can take control of our output. But then again, isn't that a performance?
Edition of 300 copies
Extract cover sponsored by G.F Smith
9 x 11 in | 192 pp
Five senses. This is how we are taught to group ways of perception. Some argue there are more or fewer. Within these universal five, such as taste, some cultures subcategorize them differently. In certain places, people call green and blue the same thing, considering them as variations of the same shade. If we cut off one sense, we are told others can heighten. Perception, sensing, is a capricious thing, as powerful as it is subjective.

What of the lack of sensation? Numbness. To be blind, to be deaf, does not imply one does not feel. But numbness—physical, cerebral, or psychological is a nuanced thing. Subject a limb to extreme cold, fail to move your arm for hours, damage a nerve—numbness, as expected, will ensue. But what of the numbness of overexposure? With a scroll of the wrist or finger, nearly second nature, we tumble down a rabbit hole of worlds we may not know but see everyday: the real violence of war, the violence of callous comments on social media, ever-growing, interchangeable material addictions, photoshopped ideals, sex, on demand, of every kind and extreme variation, instant company, virtual dating. Our world's access to experience is unlimited, but our ability to feel has never been less. What is the threshold between knowledge and numbness? In a society that saturates our senses, what does it mean to truly feel?

Issue III of Tabula Rasa invites its contributors to tackle the spectrum of numbness, from source to sensation, visualizing its implications and manifestations.
Edition of 300 copies
9 x 11 in | 216 pp
hello@esteekim.com
estee@tabularasamagazine.com
esteekim©2019

hello@esteekim.com
estee@tabularasamagazine.com
esteekim©2019